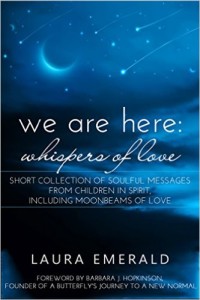 We are Here: Whispers of Love:
Short Collection of Soulful Messages From Children in Spirit, Including Moonbeams of Love  (Kindle Edition)
In this poignant and endearing collection of soulful messages from children in spirit, readers will gain insights into their children and loved ones in spirit: what they are doing, the meaning of their short time together, and even what it's like on the other side. These children and beings chose Spirit Medium Laura Emerald to bring their messages forth to be shared, bringing laughter, tears, and healing to each person touched by the collection. Foreword by ABJ's Barbara J Hopkinson.