Across the Universe
A new series by Jay LaFond …airing all over eastern Massachusetts
Debut guest: Barbara J Hopkinson with Host Lindsay Paris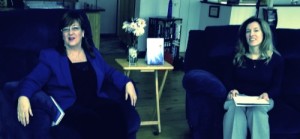 Barbara J Hopkinson, local author, speaker and facilitator of bereavement groups and programs, is the debut guest of the new "Across the Universe" TV series that started this summer.
The "Across the Universe" series was created by Jay Lafond, producer, to feature local people pursuing a passion and making a difference in the lives of others. Lindsay Paris hosts, who Lafond says has an amazing on-air presence and a rare interview ability.
Lafond said he was so moved by Hopkinson's book that he could not put it down, and selected Barbara to be the first guest because of her commitment to helping bereaved families.
During the show, Hopkinson provides viewers with many ways to move beyond the grief of losing a child, sharing intimate details of her loss of three children. Her key message of "It's all about the love" gives hope and insight to many as they move through grief.
Hopkinson founded The Compassionate Friends of Greater Newburyport and has been supporting families after the loss of a child for eleven years. She is expanding her support to a national level through her book, virtual support program, and resource center.
Contact Barbara at 617-410-6309 or barbara@abutterflysjourney.com
for a complimentary 30-minute healing conversation.